Provides Web access, environmental sensor data, and third-party customer protocols for Vertiv equipment. The cards employ Ethernet and RS-485 networks to monitor and manage a wide range of operating parameters, alarms and notifications. Provides a communication interface to Trellis, LIFE Services, Liebert Nform, and third-party building and network management applications.
Best Suited For:
Banking, Financial and Insurance
Data Center/Colocation/Hosting
Government
Healthcare
Retail and Wholesale
Telecom
Benefits:
Flexibility
Allows systems to be viewed from the network via browsers and popular protocols
Connects to Ethernet or 485 Serial networks, or both
Multiple third-party protocols (SNMP v1/v2c/v3, BACnet IP/MSTP, Modbus TCP/RTU, YDN23) from a single card
Environmental support using Liebert SN Sensors - Temperature, Humidity, Leak Detection, Doors, Contact Closures
Supports a variety of Vertiv software tools and services
Security
HTTPS message and Web Access encryption
SNMP v3 with installable certificates 
Features: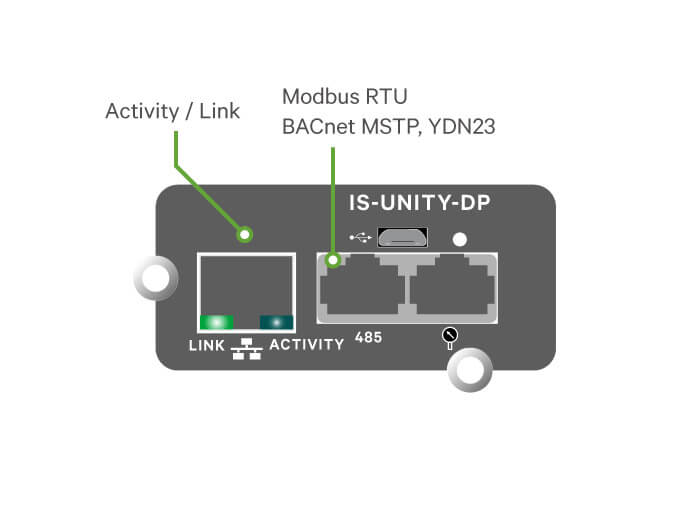 Provides Web access to the installed device via popular web browsers - Microsoft Internet Explorer, Mozilla Firefox, Google Chrome, and Safari (MacBook and iPad)
Provides alarm notifications ia eMail and text messaging
Supports envinronmental monitoring via Liebert SN Sensors
Third-party protocols (Modbus TCP/RTU, BACnet IP/MSTP, SNMP v1/v2c/v3, and YDN23) are supported for building and network management applications 
Enables Vertiv software tools and services, including Trellis, Liebert Nform, and LIFE Services 
Vertiv designs, builds and services critical infrastructure that enables vital applications for data centers, communication networks and commercial and industrial facilities. We support today's growing mobile and cloud computing markets with a portfolio of power, thermal and infrastructure management solutions.
We offer unsurpassed global scale and broad expertise, built from our heritage as Emerson Network Power. And now as Vertiv, we match industry leadership with the focus and spirit of a startup.